Note: This section will be continuously updated with new photos, plus both paranormal and psychic information, so be sure to revisit frequently.
The events that inspired Producer/Creator/Co-Writer, David Oman, to create the story of House at the End of the Drive include apparition sightings, inexplicable voices, and random photographs containing unusual orbs, shadowy images and streaking light patterns.  The fact that David resides in a home a few doors down from the former Sharon Tate mansion and the site of the infamous murder spree that took place in Beverly Hills in 1969 may be part of the explanation. To read the complete details of the events, go to the About the Production Page.
For those of you whose interest has been piqued by this upcoming film already, we have included below some of the exclusive photos for you to view. Unlike most psychic material online today, these photos are not part of a hoax. Finding reliable psychic sites can be extremely difficult without proper research (you can find a full list on heraldnet.com, or other similar websites). These pictures in question, however, have not been altered in any way other than resized for the Web. They are inexplicable manifestations.
Dr. Barry Taff, one of the world's leading para-psychologists (learn more about him further down on this page), visited David's house during shooting and reviewed some of the photographic evidence from 2004. He was riveted. "I've investigated over 4000 cases of paranormal activity," says Taff, whose true life story became the 1981 film, The Entity, "and I can tell you for certain that these photographic images are real. I don't know what's going on at that house, but I'm eager to set up a formal investigation, with all the right equipment." At press time, that investigation was set for the 36th Anniversary of the murders.
---
VIDEO CLIPS OF INTEREST, NEW VIDEOS BELOW THESE
The following video clips will astonish you!  These clips are 100% REAL!!!  This is not footage created for the film.
Using Infa-Red Video Technology at the house where the film was shot, The Southern California Ghost Hunters Society
was able to capture what you are about to witness.
Click on the "Clips Listed Below 1 – 4. We highly encourage you to download these clips and email to your fellow fans of the paranormal.  These are rare! The Below 4 Clips are from early 2015 and if you want to come on a Real Life Ghost Investigation at The Oman House visit www.theomanhouse.com
CLIP 1 March 15 2015 Butcher Block          CLIP 2 May 2nd 2015 Woman Attacked         CLIP 3 Febraury 14th 2015 Ghosts in the Theater Room         CLIP 4 Tess has to deal with Some Ghosts
Some more recent video clips from the new CCTV camera system that I now have installed in my home and a video of out takes from "The Ghost Hunters."
---
These first three photographs were randomly taken of Halloween decorations
in front of and inside David's house on Halloween Night 2003. David noticed
nothing unusual in the camera's viewfinder, but when he looked at the photos
themselves later, he discovered the strange "orbs" and moving "lights."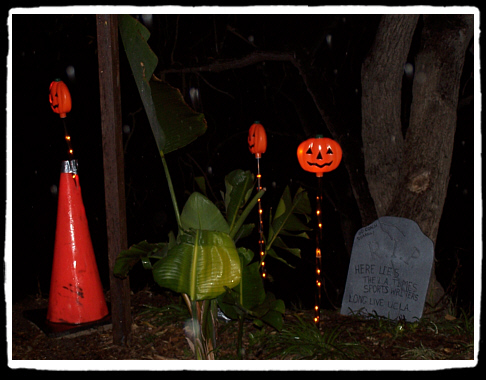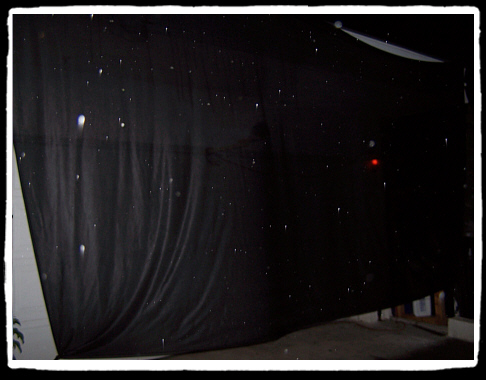 This photo was taken inside David's house on September 22, 2004 with a different
camera (35mm) and shows an eerie glow emanating from the sideways couch.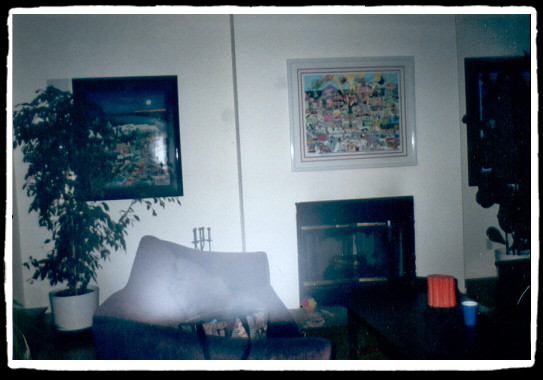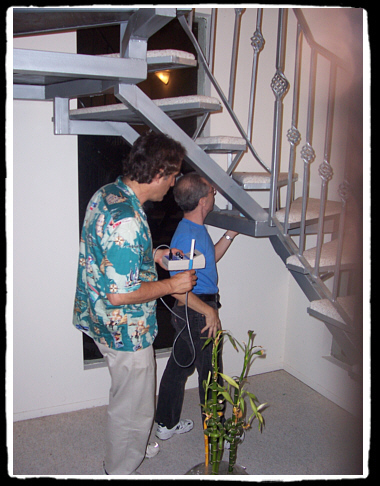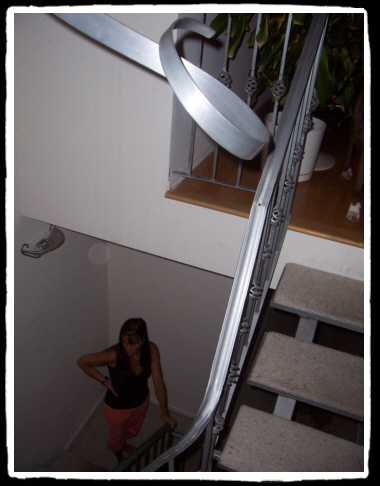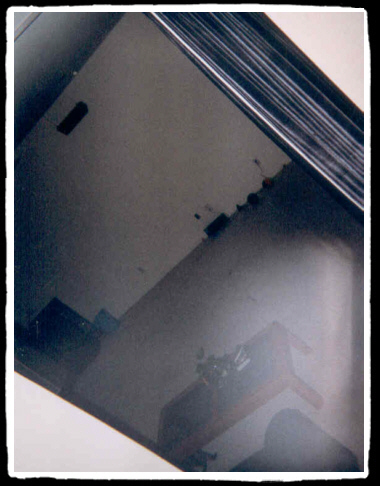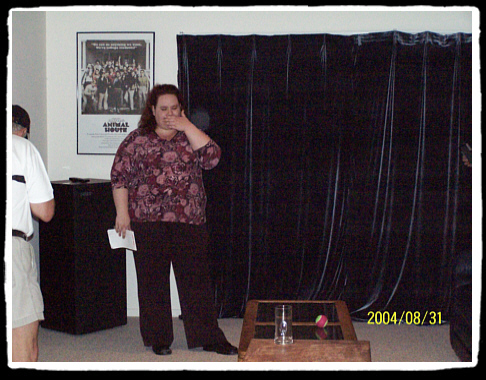 ---
PARA-PSYCHOLOGISTS & PSYCHICS
DR. BARRY TAFF – Para-Psychologist
(Consultant to "House at the End of the Drive")
Dr. Barry Taff, an internationally recognized para-psychologist and expert on the paranormal, has done a preliminary investigation into paranormal events at the home of producer David Oman. A formal investigation, using the most sophisticated equipment available, will begin shortly. Through his efforts, producer Oman hopes to get to the bottom of the events that have transpired for the past three years.
Dr. Taff, who holds a doctorate in psychophysiology with a minor in biomedical engineering, worked as a research associate at UCLA's former parapsychology laboratory from 1969 through 1978. During his 36-year career, Dr. Taff has investigated more than 4,000 cases of ghosts, hauntings, poltergeists, and he has conducted extensive studies in telepathy and precognition which led to the development of the original protocols and methodologies for what was later coined "remote-viewing." He also was himself investigated as a psychic subject in 1969, the results of which, entitled "A Laboratory Investigation of Telepathy: The Study of a Psychic," were published in Behavioral Neuropsychiatry, Vol 6, Nos. 1-12, April-December 1974-March 1975.
One of the cases Dr. Taff investigated in 1974 gained international fame as the book and motion picture, The Entity, starring Barbara Hershey which was released by 20th Century Fox in 1983. Dr. Taff has appeared on numerous TV and radio programs, including CBS News, KNBC News, KABC News, Strange Universe, Unsolved Mysteries, The Joan River's Show, A Current Affair, Hard Copy, Sightings, Judge for Yourself, The Extraordinary, The Montel Williams Show, The Wil Shriner Show, The Suzanne Somers Show, NBC's The Other Side (as a recurring guest), Haunted History, Mysteries and Scandals, ABC's World's Scariest Ghosts Caught on Tape, and, most recently, the Sci Fi Channel's An Unknown Encounter & California's Most Haunted (highest rated shows in Sci Fi Channel's history, for which Dr. Taff served as creative consultant and technical advisor.
He has consulted for government, business and law enforcement, including the Central Intelligence Agency, Office of Naval Intelligence, National Security Agency, Defense Language Institute, Defense Intelligence Agency, Defense Advanced Research Projects Agency, the FBI, Interpol, LAPD, California Highway Patrol, Santa Barbara Sheriff's Department and the Westminster Police Department. He has also served as a technical advisor or script doctor on the films Logan's Run, Demon Seed, Altered States, Poltergeist and The Entity.
Dr. Taff has written numerous articles for magazines and journals, and has been featured in many books on paranormal subjects, ranging from precognition to UFOs. He is also the co-inventor of six medical patents that are currently being developed for the market.
---
Two other psychics who visited the set of House at the End of the Drive were Krista and Michael.  You can Learn more about them in their bios below, or by visiting their website: www.mysticraven.net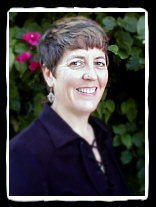 Krista was born on June 22, 1960 in Pittsburgh, PA.  As a child she lived in New York, Raleigh (NC) and Ireland.  She graduated from Duke University and then set out to explore many spiritual paths.
Krista spent ten years studying Buddhism before moving to Nova Scotia.  Once there, she discovered the world of Paganism, and this led her to the art of divination.
Having a strong interest in both Celtic legend and Native American practice, it was natural for Krista to develop talents in traditional forms of divination including tarot and palmistry.  She also works with animal (totem) divination based on the ancient tradition of the Celts and Native Americans.
At a young age, Krista's father introduced her to astrology which Krista has studied for the past 25 years.  She is also a vivid dreamer and has kept dream journals since childhood.  Often her dreams have proven to be prophetic.
Krista's readings combine compassion with practical advice.  Her clients have come to value her insights and she has been able to touch many lives.
Krista formerly hosted "The Witching Hour" on CKDU radio in Halifax, Nova Scotia and has appeared on television in North America, England, Japan and Australia.  She has hosted workshops and lectured on the occult and related subjects for numerous groups including the Los Angeles Opera Company.
---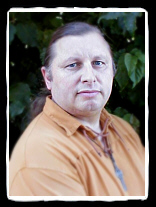 Michael was born and raised in Nova Scotia, Canada.  He credits growing up in this very Celtic part of the world with his natural interest in folklore and legend.  Indeed, the art of the story-teller is still very much alive in Nova Scotia, and you can even hear them told in the old Gaelic tongue in some areas.
Although intuitive all of his life, something which Michael believes is natural to those with Celtic roots, it was not until his mid 30's that he began to develop a more active interest in spirituality and the Occult.  It was this blossoming interest that led him to discover the Tarot, and he quickly became fascinated with the tool.
Over the last 4 years Krista and Michael have been designing a comprehensive system for interpretation of the ancient Tarot.  Their approach combines the elements of astrology and numerology, as well as a strong foundation in Cabbala.  The feedback they have received has been very encouraging, and some claim that the readings they have been able to construct using their approach have been among the most accurate.
One thing that Michael prides himself on is honesty.  Many Nova Scotians still like to believe that a persons word is their bond.  For this reason, Michael is often outspoken about some of the things he sees other readers doing that appear to be unethical or misleading.  He has believed from the beginning that one can achieve greater success by not exaggerating the claims made about psychic ability.  This has lead him to a very factual and scientific understanding about the art of divination.
Michael also believes in the sacredness of the knowledge inherent in Tarot.  He takes on a limited number of students at any one time, and there is never any charge for his teachings – although he does tend to test his students initially to ensure their sincerity.  He has also facilitated workshops and seminars on the Tarot and other occult related subjects.
Growing up in a small fishing community, Michael became aware at an early age of the necessity for people to bond and work together.  This is why he finds it an important part of his calling to help other serious practitioners of divination to find the outlets and recognition that will allow them to flourish.